The Aim of This Workshop

This is the third of the "B-mode from Space" workshop series. The previous meetings were held at:
The purpose of the workshop is to discuss the science goals, status of CMB polarization projects, foregrounds and mission design, technologies and challenges for the space-borne observations of CMB polarization. The synergies with ground-based/balloon and other cosmological experiments/surveys will be discussed. 
Dates and Venue
Dates: December 16–19, 2019

Venue: MPA Large Seminar Room [E.0.11]

When you enter the main entrance of MPA, go to the left, go downstairs, and you find the room

Conference fees: 50 EUR

For registration and payments, visit this page

The number of participants will be limited to 120. Register early!
Photo Credit: (c)2019 H.-A. Arnolds/MPA (Link to the original size)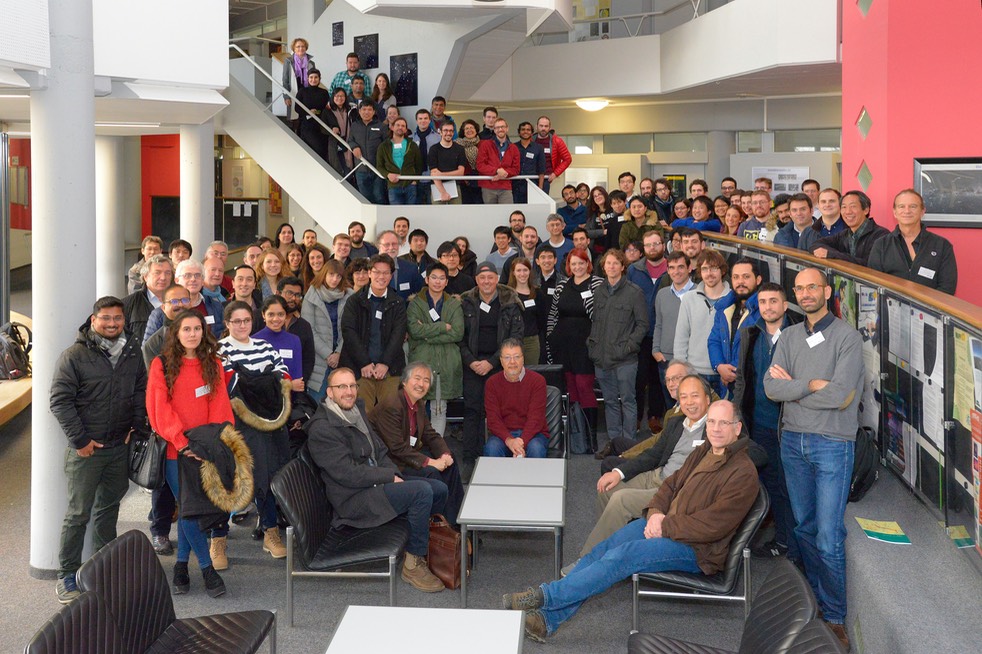 Best Poster Awards and Honorable Mention
The best poster awards went to:
The honorable mention went to: 
Congratulations!! 
The most important Japanese word, "Otsukare!"
The description is available here
Code of Conduct

The organisers are committed to making this meeting productive and enjoyable for everyone involved, regardless of age, body size, disability, ethnicity, gender, marital status, nationality, physical appearance, political affiliation, pregnancy, race, religion or sexual orientation. 
We adopt the Code of Conduct for the ESO workshops and conference, available on this page. Participants are expected to adhere to these guidelines.
Renée Hložek and Eiichiro Komatsu are designated as the contact points for all matters related to this code. Participants can report any violation of these guidelines to these designates in confidence. If asked to stop inappropriate behaviour participants are expected to comply immediately and, in serious cases, may be asked to leave the event without a refund. MPA will not tolerate retaliation against anyone reporting violations of this code of conduct.
Confirmed Invited Speakers
Susan Clark (IAS)

Jeffrey Filippini (UIUC)

Silvia Galli (IAP)

Shaul Hanany (U. Minnesota) 

Masashi Hazumi (KEK/Kavli IPMU)

Rishi Khatri (TIFR)

Nicoletta Krachmalnicoff (SISSA)

Adrian Lee (UC Berkeley)

Silvia Masi (Sapienza U. Roma)

Slava Mukhanov (LMU)

Gina Panopoulou (Caltech)

Benjamin Racine (CfA Harvard)

Mathieu Remazeilles (U. Manchester)

Rashid Sunyaev (MPA)

Angela Taylor (U. Oxford)
International Scientific Organization Committee (SOC)
Erminia Calabrese (Cardiff U.)

Jacques Delabrouille (APC)

Matt Dobbs (McGill U.)

Renée Hložek (U. Toronto)

Nobu Katayama (Kavli IPMU)

Eiichiro Komatsu (MPA/Kavli IPMU)

Adrian Lee (UC Berkeley)

Licia Verde (U. Barcelona)

Ingunn Wehus (U. Oslo)
Local Organization Committee (LOC)

Maria Depner (MPA)

Sonja Gründl (MPA)

Eiichiro Komatsu (MPA/Excellence Cluster)

Joseph Mohr (LMU/MPE/

Excellence Cluster)

Tony Mroczkowski (ESO)

Jochen Weller (USM/MPE/

Excellence Cluster)