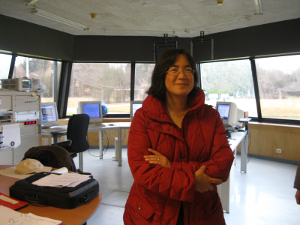 Fig.: Guinevere Kauffmann

It is quite unusual for Americans working abroad to be elected. This year only two of the 84 new members work outside the US. Guinevere is also one of only two astronomers elected this year, the other being Marcia J. Rieke from the University of Arizona. In her research, Guinevere studies the formation and evolution of galaxies both theoretically, using computer based semi-analytic models, and observationally, through the analysis of large multiwavelength surveys.
The National Academy of Sciences is a private, non-profit honorific society of distinguished scholars engaged in scientific and engineering research. It is dedicated to the furthering of science and technology and to their use for the general welfare. It regularly advises the US government on scientific questions related to public policy. Established in 1863, the National Academy of Sciences is charged to "investigate, examine, experiment, and report upon any subject of science or art."
For more information see:


http://www.nasonline.org/news-and-multimedia/news/2012_05_01_NAS_Election.html