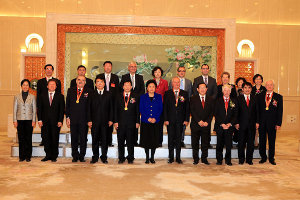 Fig. 1: State Councilor Liu Yandong, Minister for Research Wan Gang, CAS Vice President Bai Chunli and the five laureates in the great hall of the people (Börner: first row, third from the left).
© Shanghai Astronomical Observatory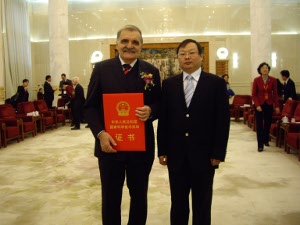 Fig. 2: Gerhard Börner with Li Cheng, the current leader of a new partner group of the MPA at the Shanghai Astronomical Observatory, and the award certificate
© G.Börner, MPA

At a special reception, State Councilor Liu Yandong recognised the achievements by the international laureates and emphasised the paramount importance of international research collaboration for the economic and social development of China.
Börner is one of the pioneers in the cooperation of the Max Planck Society with China: Since 1979 he continues to stimulate German-Chinese cooperation and rendered outstanding services as mentor and teacher for a whole generation of Chinese astrophysicists. Together with Professor Jing Yipeng from the Shanghai Astronomical Observatory (SHAO) he initiated the first Max Planck Partner-group in China — a new form of cooperation, which soon became a model for similar programmes and which is the most successful instrument for international networking today. Börner and Jing's partner-group shaped the research on galaxy formation and cosmology in China and attracted much international attention.
This was already the third Chinese honour for Gerhard Börner in the course of one year: in January 2010 the Chinese Academy of Sciences (CAS) presented him with the

CAS Award for International Cooperation in Science and Technology, followed in September 2010 by the

Friendship Award of the Chinese government.