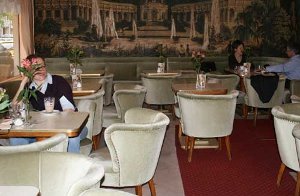 The Café Jasmin at Steinheilstraße, Munich
Copyright: Universe Cluster/Barbara Wankerl

This evening will be the first of the new event series "Café & Kosmos", which aims to bring scientists and the lay audience together outside of scientific institutions: in the middle of Munich — and in a Café. This is the place where people meet in pleasant surroundings, chat, discuss big and small issues — and from 31. May once a month also science.
"Café & Kosmos" is an initiative of the Exzellenzcluster Universe and the Max-Planck-Institutes for Physics, Astrophysics, and Extraterrestrial Physics. The second event will take place on 5. July 2010 with the astrophysicist Dr. Markus Kissler-Patig of ESO who will discuss the question "Are we alone in the Universe? — Planets outside the solar system".
What: Café & Kosmos — Der Urknall im Tunnel
When: 31 May 2010, 19:00
Where: Café Jasmin, Steinheilstraße 20 (U2, Theresienstraße)
Entrance free.
Please note that the event will be conducted in German.
Links:

European Southern Observatory (ESO)


Exzellenzcluster Universe


Max Planck Institut for extraterrestrial Physics (MPE)


Max Planck Institut for Physics (MPP)