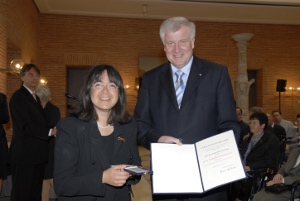 Dr. Guinevere Kauffmann and Bavarian Prime Minister Horst Seehofer at the bestowal of the order.
Copyright: Bayerische Staatskanzlei

The Federal Cross of Merit is the only general state decoration of the Federal Republic of Germany and is awarded for political, economic, social and intellectual achievements as well as for special merits. Dr. Kauffmann will be one of the few women scientists in the ranks of politicians, businessmen, artists, journalists and other citizens bearing the decoration.
Born in the USA, Dr. Kauffmann grew up in South Africa and studied Astronomy at University Capetown, finishing her PhD at the University of Cambridge in 1993. After postdoctoral positions in the USA and Germany, she became head of a research group at the Max Planck Institute for Astrophysics in Garching. Her research concentrates on the early Universe, where she studies the formation and evolution of galaxies both with semi- analytic models on the computer and in comparison with extensive observations. Dr. Kauffmann is actively engaged in promoting and advancing her scientific field in Germany, Europe as well as internationally. Among other activities, she coordinates a new Marie Curie Research Training Network of the European Union that brings together young and experienced researchers from all over Europe for an interdisciplinary project.
Dr. Kauffmann was awarded by the German Research Foundation DFG with the Heinz-Maier-Leibnitz-Prize in 2002 and in 2007 with the Gottfried-Wilhelm- Leibniz-Prize, the highest German research prize. In 2009 she has been elected to the American Academy of Arts and Sciences.