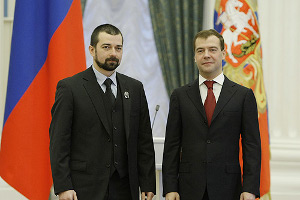 © The Presidential Press and Information Office

Mikhail Revnivtsev is engaged in studying black holes and galaxy clusters, his research focusing on the origin of the galactic ridge X-ray emission, being an essential parameter for the energy of stellar and non-stellar components of our galaxy, the Milky Way.



Dr. Revnivtsev received his prize for important contributions to our understanding of the nature of galactic and extra-galactic sources of x-ray radiation. A large part of Dr. Revnivtsev's prize-awarded research has been carried out at the Max Planck Institute for Astrophysics (MPA) in collaboration with several colleagues at MPA. He has been a research fellow with the Universe Cluster since August 2008.
Further information:



The Presidential Press and Information Office